Jira admins play a crucial role in helping organizations get the most out of their investment in Jira and ensuring teams can get their best work done.
But as we all know, there are a lot of factors that influence how much teams can get out of Jira and how well it performs for them. So, in this article, we're going to focus on one of the most important factors: the cleanliness and overall health of Jira.
After all, your teams must have access to a system that is not polluted with excessive custom fields or overly complex configurations that just add clutter. Not to mention the impact this has on the ability to use JQL or transform data into business-critical reports or dashboards.
Keeping Jira healthy is important, but it's a challenge for admins as time is precious, and often, there will only be a handful of admins outnumbered by the vast number of Jira users.
This is where the much-loved Jira admin app, Optimizer for Jira, can save you a lot of valuable time and a lot of effort, and today, we're unveiling a powerful new feature: Health Checks.
Introducing Health Checks for Jira Cloud
Health Checks reviews your Jira projects, custom fields, and other configurations against a series of parameters and automatically identifies areas of concern or potential improvements.
It's an exciting addition to the cloud version of Optimizer for Jira and is another tool in the ever-expanding arsenal for Jira admins.
Let's take a deeper look at Health Checks

Instead of wasting valuable time searching for this information manually, trawling through reports, or exporting your Jira data to try to connect the dots, Optimizer provides all the information you need at the click of a button.
As shown in the video above, you could spend minutes, hours, days, or sometimes weeks piecing this information together yourself, or you can use Optimizer to review Jira and instead invest your time where it matters most.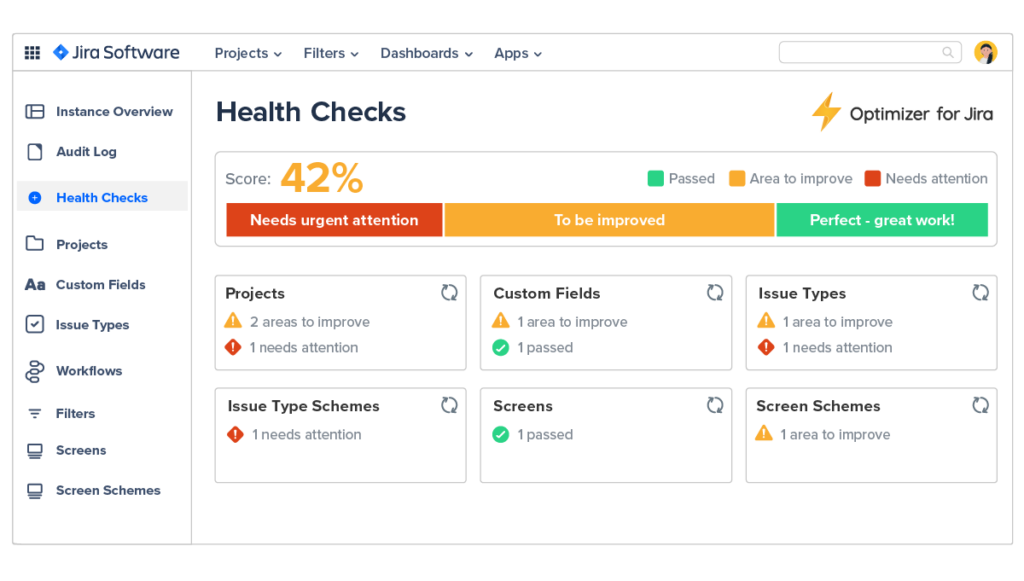 All the Health Check results are available at a glance, so you can quickly assess where to focus your time, effort, and expertise.
The Health Checks in Optimizer are an absolute game-changer for admins and will save a ton of time when tidying up Jira. It's so intuitive, and the coloured indicators give an excellent at-a-glance view of the areas in Jira that need attention so you can focus where it matters.
– Callum Carlile, Senior Consultant @ Automation Consultants
This exciting new feature has already received a ton of positive feedback from customers, so let's take a closer look at what it can do for you.
Access a wide variety of Health Checks
Optimizer contains the health checks that cover common areas of interest, particularly if you want to keep your Jira instance clean, up-to-date, and clutter-free.
Currently, there are 12 different health checks available, which will help you find inactive, unused, or duplicate configurations within Jira, and include:
Duplicate Custom Fields
Inactive Projects
Projects with inactive Project Leads
Duplicate Issue Types
Inactive Screens
Filters with Inactive Owners
and many more…
These health checks will empower you to make more informed decisions about where to focus your efforts and help you communicate with stakeholders where additional resource is required or improvements need to be made.
We're actively gathering feedback from customers and plan to add many more health checks in the near future. If there's a health check you want us to add to Optimizer, please let us know!
Deep dive into Health Check results
You can dive into any of the Health Check results to determine which items have been highlighted as areas of concern, analyze them further using the robust smart tables, and ultimately make better-informed decisions.

Health Checks currently cover eight categories, and you can dive deep into each one of these:
Projects
Custom Fields
Issue Types
Issue Type Schemes
Screens
Screen Schemes
Issue Type Screen Schemes
Filters
Sort and filter data to unearth unique insights
Once you have identified a number of focus areas with Optimizer, you will want to take a closer look at the data.
You can view the results of any Health Check using Optimizer's much-loved smart tables, but this time with a twist… say hello to sorting and filtering! 😍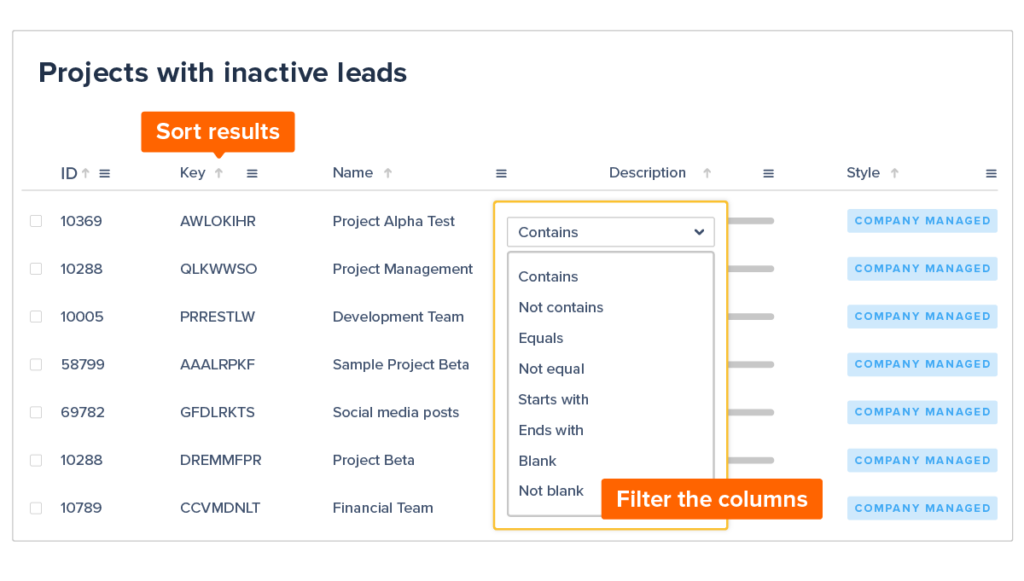 Sorting and filtering might sound like a simple feature, but it unlocks a whole host of possibilities and will save you tons of time! Quickly sort columns to select multiple items in one go, or use filtering to make cross-comparisons and really drill down into the data.
Whatever you need to do, Optimizer gives you the tools to cut through the noise, get straight to the point, and make better-informed decisions in your everyday role as a Jira admin.
Make changes in a matter of seconds
You can remove any inactive or unused projects, fields, and other configurations with ease using Optimizer.
After using Health Checks to identify projects and configurations that can be removed, you can use Bulk actions to make changes to individual or multiple objects in a matter of seconds without the need to leave Optimizer.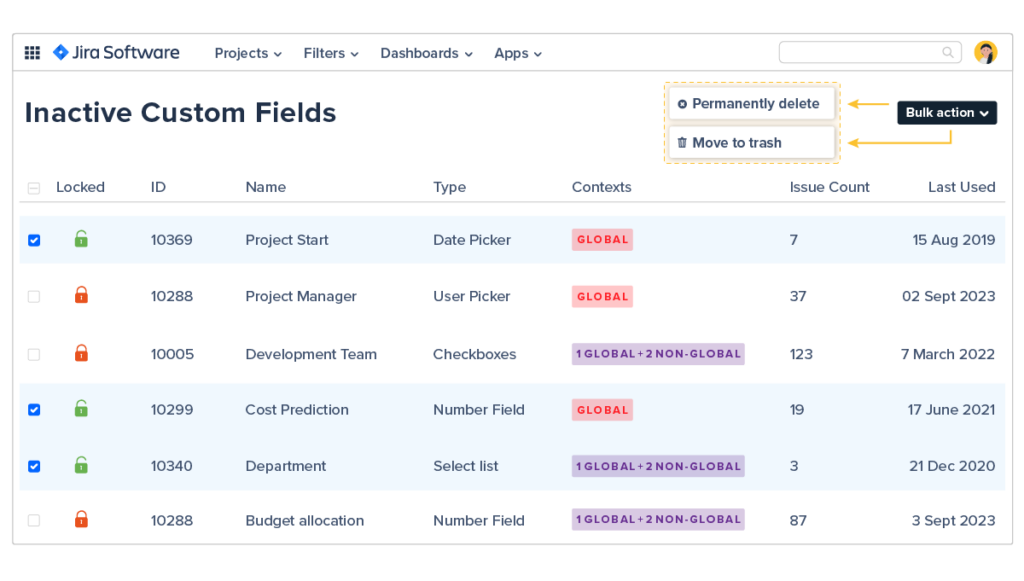 It makes cleaning up Jira and maintaining a clutter-free site easy and effortless for everyone involved.
Track your progress and improvements over time
You will be given an overall percentage health score for your Jira site, as well as red, amber, and green indicators for projects, custom fields, and other configurations. This makes it really easy to benchmark Jira and track it over time so you can see your impact and clearly communicate to stakeholders where problems are located.

Health Checks can also be used to highlight common problems in your Jira (for example, excessive duplicate custom fields), so you can go beyond the normal clean-up activities and look into other methods to address this, such as better training for your users or a more centralized pathway to request new configurations.
Most importantly, it feels rewarding to see the health of Jira improving, especially when you put in time and effort every day to keep Jira in the best condition possible. It's important you take those moments to give yourself some well-earned credit!
What does this really mean for you as an admin?
So, Health Checks can do a lot, but what does this REALLY mean for you as a Jira admin? Well, simply put, these checks can help you:
Save time: your time is valuable, and Health Checks will automate the tedious parts of the process so you can focus your attention where it matters most.
Find problems: quickly identify problems or areas that can be improved across projects, custom fields, and a range of other configurations.
Focus your efforts: use the red, amber, green indication system to focus your attention on the areas that need it most
Make a difference where it matters: invest your time and make the improvements that will impact your organization.
How can you start using Health Checks?
You can get up and running with Optimizer's Health Checks in a flash, just follow the steps below based on whether you are a new or existing customer:
New to Optimizer? Start your free 30-day trial on the Atlassian Marketplace, and you can get instant access to this exciting new feature. Want to discuss your use case with our expert team? Book a demo
Are you already using Optimizer? Jump into the Optimizer app (Apps menu in Jira > Optimizer), and you will see Health Checks available in the left-hand navigation menu. You need to run your first scan of Jira, and then you can dive into the results and start looking for the areas you want to focus on.
Thanks to everyone who took part in our Early Access Program
We love working with customers to build cool new product features, and Health Checks was no different.
Since its inception many months ago, we have re-designed, iterated, and improved this exciting new feature based on our customers' feedback through an exclusive Early Access Program (EAP).

Customers and partners from around the world, as well as our team at Automation Consultants, came together to help us, and without them, this would not have been possible.
From the bottom of our hearts, a huge thank you!
You are all awesome 🧡
The future of Jira administration is exciting 🔮
Optimizer has been built to change the future of Jira administration and is the all-in-one admin tool that helps you audit, configure, and optimize Jira in the best way possible.
If you like the look of Health Checks, you'll absolutely love what we've got coming soon! Stay tuned for more 😉
Try Optimizer for Jira on the Atlassian Marketplace and see how it can make a real difference to your everyday role as a Jira administrator. Happy Optimizing