Protect your Confluence data with built-in classification and sensitive data detection
Gain greater control of the information being shared in Confluence with classification levels, page access restrictions and sensitive data detection.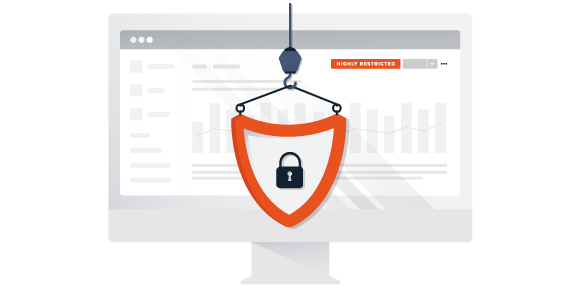 Data Classification Levels
Classify pages based on sensitivity and risk
Not all information is created equal and the same is true when you use Confluence. Use classification levels to categorize pages based on the types of information they contain and help your organization make more informed decisions to protect sensitive data.
Reduce risk with level-based access restrictions
Help protect the data in Confluence by ensuring it is visible and accessible to the right people. With Compliance for Confluence, you can restrict page access to specific users or groups based on the data classification level.
In the Server and Data Center versions you can make it mandatory for Confluence pages to be classified when they are created, encouraging users to adopt good data handling standards from the start.
Make better, more informed decisions
Use the built-in search feature to filter Confluence pages based on their classification level. This can help you identify pages that are pending classification and prompt users to classify their pages closing any gaps in Confluence.
You can also extract this information as a report so teams can review their Spaces and ensure all pages are classified appropriately.
Find sensitive data in any Confluence page
Use the data detection feature to identify sensitive data stored in Confluence pages. Compliance for Confluence will detect a wide variety of sensitive data including credit card numbers, social security numbers, and IP addresses.
Once detected, you can use automated actions such as data redaction to ensure sensitive information is redacted preventing it from being viewed or accessed.
This is a Server and Data Center feature only.
Why use Compliance for Confluence?
Data loss can have significant consequences to businesses. Put safeguards in place to help protect the information or data contained in Confluence.
Give yourself peace of mind and use Compliance for Confluence to help you implement good data handling practices in Confluence with classification and restriction.
Use page classification levels and access restriction to help control which types of information should be accessible to users in Confluence.
Gain access to reports that help identify pages based on their classification level or those pending classification so you can act and close any gaps.
What do our
customers
think?
"Great product with great developers who care about the customer experience. We couldn't be happier with the current functionality and are excited for future development"
Learn how to setup and use all the features in Compliance for Confluence with our user guides.
Request a free 30-minute demo and find out everything you want to know about Compliance for Confluence.
Get started with Compliance for Confluence today
Discover how Compliance can help you protect data stored in Confluence with a 30-day free trial.