Transform the way you create, manage and share content in Confluence
Choose how documents and pages are created, approved and published in Confluence. Build custom workflows that are tailored to your needs with integrated page approval processes and other document controls.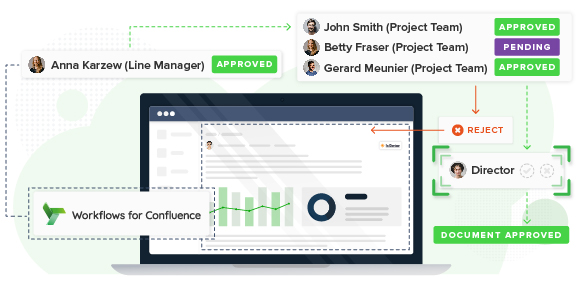 Powerful Workflow builder
Shape how your teams work in Confluence
Use the powerful workflow editor to create document management processes that meet the needs of your teams and align with existing policies and procedures.
You can create simple and complex workflows in just a few minutes and easily apply them to individual pages or entire spaces at the click of a button. With Workflows for Confluence, the power is in your hands.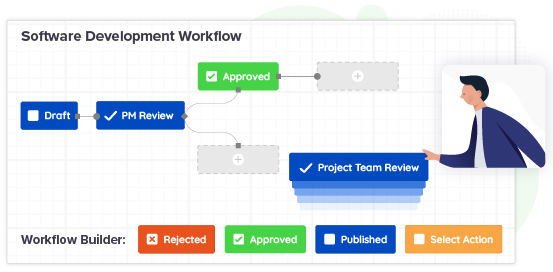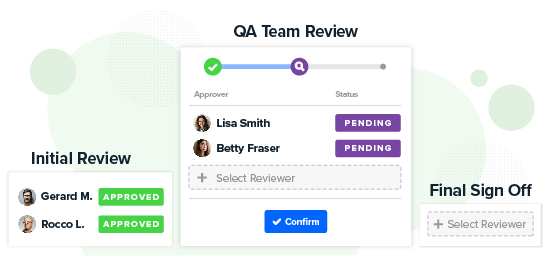 Custom approval processes
Create the exact approval processes you need
Integrate a review and approval process into your Confluence workflows and ensure documents are approved before being published or shared.
You can set up single or multi-stage approval workflows depending on your requirements. These approval workflows can be applied to the pages you need, giving you the flexibility to apply your document management processes to Confluence in an easy but structured way. 
Save valuable time with automated actions
Why waste time doing things manually? Workflows for Confluence comes packed with automation features such as adjusting page permissions and sending notifications to popular collaboration tools such as Slack and Jira.
For example, you can use workflow actions to restrict page access and visibility until it has been approved which may be essential for business-critical documents.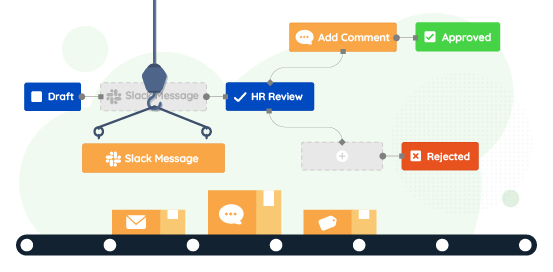 Keep people in the loop at all times
Take advantage of the email notifications built into Workflows for Confluence and keep your content owners and review teams in the loop.
When pages are waiting for review, your approvers will receive an email notification prompting them to take action. But that's not all. Workflows for Confluence will keep your content owners up to date as pages progress through the workflow and as status' change.
Why use Workflows for Confluence?
Choose from a range of workflow status' and actions to build the document management process that is right for you.
Bring consistency to how your teams create, approve, and share content in Confluence. Workflows helps you apply document management processes with ease.
Build workflows to meet the needs of your team and enhance collaboration. By doing so, you can empower your teams to continue creating great content, together.
Put Confluence at the heart of content creation and use integrated webhooks to send notifications to collaboration tools such as Slack and Jira.
What do our
customers
say?
This App works great! I have been looking for an application to create workflows for a long time. Very easy to install, to configure and to use 🙂 On top of that, the support is just amazing! Thanks
It solved some of my urgent problems. Had some small issue and contacted support - they reacted fast and could fix the problem super quick. Thanks
A great tool to implement approval workflows on cloud, easy to handle and very intuitive. It also contains different transition actions as (Auth) Webhooks (very useful if you want to change information in another addon like Metadata) or Publishing to another space so that read-only users can see only those contents which have already been approved. And on top the support is really fast and really nice! 🙂
Learn how to setup and use all the features in Workflows for Confluence with our user guides.
Request a free 30-minute demo and find out everything you want to know about Workflows for Confluence.
Get started with a free 30-day trial
Start transforming how your teams manage work and documents in Confluence with a free, 30-day trial