Despite a significant push toward increasing diversity, women are still vastly underrepresented in the tech industry. In this article, we will explore some of the biggest challenges facing women in the tech industry and share some top tips and learnings from the superstar women in our team here at AppFox.
Challenges Facing Women in the Tech Industry
There are a variety of challenges facing women in the tech industry, but the main ones include a lack of representation in the industry, maintaining a healthy work-life balance, and the culture in the workplace. Let's unpick each one in a little more detail.
1. Representation of Women
According to Finances Online, under 20% of all senior leadership positions in the tech industry are held by women, which is a significant underrepresentation. This research also showed that under 30% of proprietary roles in software and IT were held by women which paints a similar picture.
One of the main reasons for the lack of women in leadership roles is that there are not enough women in the sector and this could have links to the choices being made during education. For example, a recent survey by PwC found that only 30% of women in the UK studied a STEM subject at university which is 22% less than males. This same survey also showed that only 27% of UK women would consider a career in technology.
From our perspective, the biggest challenge facing the tech industry is how to make more women aware of the opportunities in the industry and increase the awareness of female role models and mentors. Technology-related roles are stereotypically known to be filled more with men which is historic and may be amplified by the lack of female role models. To support this theory, when a group of female university students were surveyed, only 22% could name an inspirational woman in the tech sector – and we'd love to see this number increase!
It's clear there is an issue with females considering a career in technology and we hope exciting initiatives and communities like WISE, WomenTech network, and Code First Girls can offer women the support, training and motivation they need to close the gap in the tech industry.
2. Work-life balance
Did you know that women in the tech industry are more prone to burnout and feeling overwhelmed than men? A study found that 79% of working mothers reported feeling burned out and 69% of women reported that they were feeling exhausted at end of the day. It was reported by Womentech that burnout was often caused by women feeling like they have to work harder than men to prove themselves in what is still a male-dominated field.
Forbes also revealed that female workers spend 24% more time checking email on average during the weekday than their male colleagues and still feel like they aren't checking email often enough. However, there are now a number of communities and online resources available to help women create a work schedule that suits them, despite the challenges of imposter syndrome and long working hours.
It's great to see that things are changing and that more resources are available to support women working in the tech industry.
3. Culture in the workplace
The culture in the workplace is a significant challenge for women in the tech industry. According to a recent survey by PwC, 40% of women in tech reported experiencing gender discrimination in the workplace. This discrimination can take the form of being passed over for promotions or receiving lower pay than male colleagues. The same survey found that 77% of females who are mothers have faced discriminatory experiences at work. This stems from the assumption that women will be less competent at their job, making it harder for them to advance in their careers.
Current Progress and Future Opportunities
Despite these fundamental challenges in the tech industry it's important to recognise there have been significant strides toward increasing diversity in recent years.
Many organizations have introduced various initiatives to support women, such as Girls Who Code and Women Who Tech, which provides a wealth of resources and opportunities for women to learn, network, and advance their careers in the industry. 💻
The tech sector is definitely progressing and we hope to see this continue into the future and see more headlines like this recent one in 2023, where over 40% of board-level roles in UK-based FTSE 100 and FTSE 250 were held by women for the first time in history.
Meet the Women Breaking Barriers in AppFox
We're proud to have a number of incredible women on our team who lead by example and are making some (pretty significant) waves in our industry. In recognition of International Women's Day and Women's History Month, we took the chance to catch up with these superstars to learn more about their experience in tech and share their advice for other women looking to get started in the industry.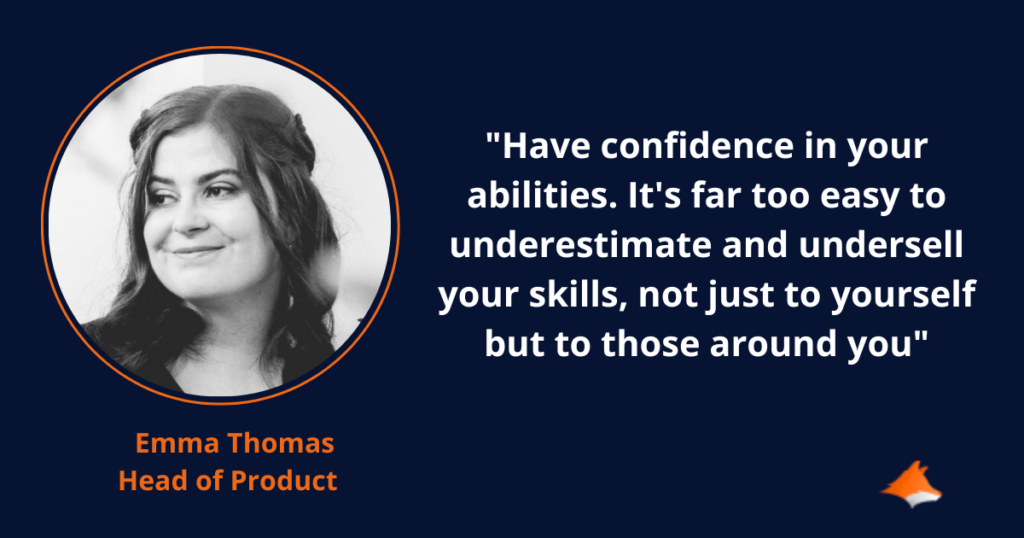 Emma Thomas, Head of Product
What is your role at AppFox?
I'm Head of Product at AppFox. I originally started my career in development and loved bug investigation activities the most. I decided that I wanted to work more closely with customers and gain some additional variety of work early in my career, so I joined Automation Consultants as a consultant and then moved into managing the Consultancy department, which I did for four years. One of my passions is ensuring that our solutions meet customer requirements and align with market growth – which is something my current role as Head of Product offers. This role allows me to work with our development and marketing teams to ensure that our products are the best they can be, that we deliver new features and functionality that meet customer needs through our product roadmap, and that our products are reliable for organizations of all sizes.
What do you enjoy the most about your role at AppFox?
The people! We have a fantastic team with a good ethos and attitude. The team and the environment we have created make even challenging days enjoyable. I love hearing customer feedback and working with our partners and other vendors.
How long have you worked in the Industry?
I've worked in tech for almost nine years. However, I didn't realise that I wanted to work in tech earlier on in my life. As a teenager, I spent a lot of time messing around on my computer – from fully customizing my desktop to upgrading the hardware (and ultimately making our living room so blue with all the LEDs that it looked more like a kebab shop). I was fortunate enough to have the opportunity to do Computing A-Level at school, and this cemented my love of programming and helped me realize my passion for tech more generally.
Do you have any advice for other women looking to join the Tech industry?
Have confidence in your abilities. It is, at least for me, far too easy to underestimate and undersell your skills, not just to yourself but to those around you. Try to look objectively at what you have achieved, the effort you have put in, and your passions. This can be anything from not starting your sentence with "I may be incorrect but…" to celebrating your achievements publicly. Try to build an environment where other women have an equal voice by actively recognizing when valuable contributions are made and calling it out if women are interrupted in meetings. It's admittedly small steps, but I have found that it can make a big difference.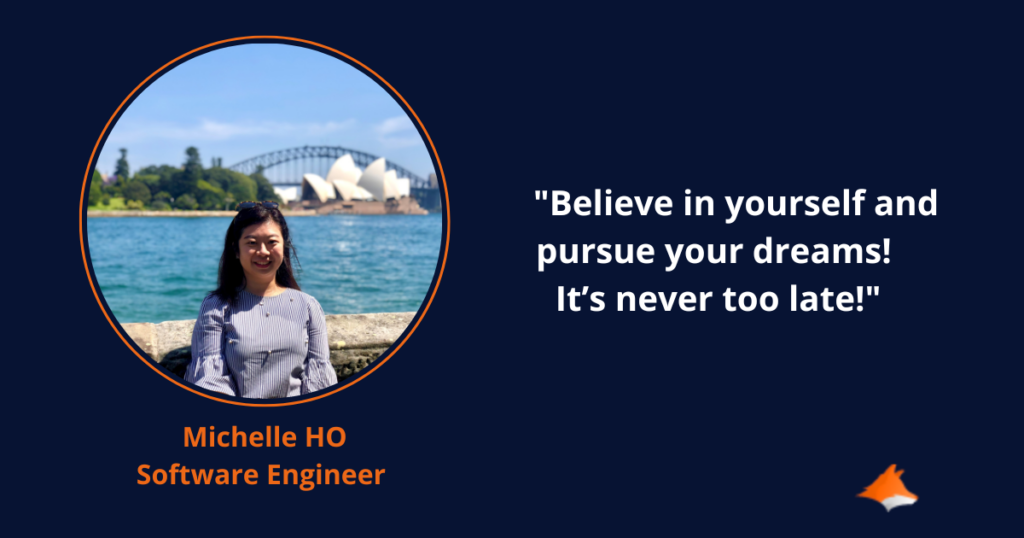 Michelle Ho, Software Engineer
What's your role at AppFox?
I am a software engineer at AppFox. My undergraduate studies were in biomedical sciences, and I gained valuable experience working in the pharmaceutical industry for five years before transitioning to the tech sector. I pursued a Master's degree in computer science to enhance my technical skills, which prepared me to work in software development.
What do you enjoy the most about your role at AppFox?
I like facing different tasks and challenges each day. The diverse range of activities is enjoyable and exciting.
How long have you worked in the Industry?
I have worked in the industry for over a year and enjoy it a lot. The tech industry is fast-paced and innovative, and I have always wanted to work in this field.
Do you have any advice for other women looking to join the industry?
Believe in yourself and pursue your dreams! It's never too late.
Any recommendations for helpful resources?
It's inspiring to learn from others who have pursued their career in tech and learn from their experiences.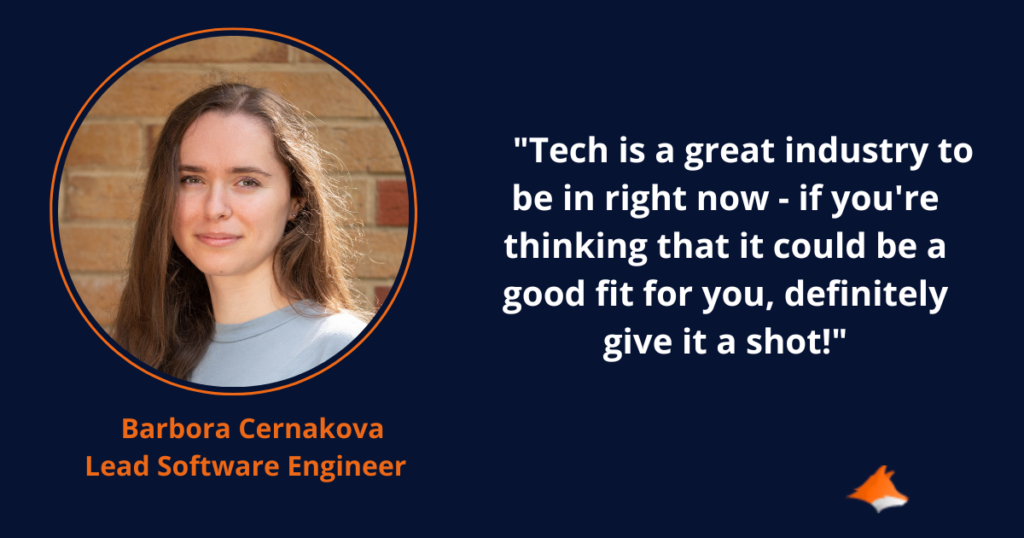 Barbora Cernakova, Lead Software Engineer
What is your role at AppFox?
I'm working as a lead software engineer at AppFox. Getting to my current role has been quite a journey – I studied maths at university, and when I first came across programming, I hated it! In my final year, I did some coding in Fortran 90, the first time I enjoyed programming. At this point, I was still sure I didn't want to turn it into a career. I met Automation Consultants at a career fair and applied for a consultancy team job. I thought the wide variety of responsibilities and exposure to various companies would help me determine what I wanted to focus on in the long term. Over time I realized that programming was my favorite part of the role, so after spending many evenings and weekends working to improve my technical skills, I eventually jumped to being a full-time software engineer.
How long have you worked in the Industry?
I have worked in the industry for over four years, but before I joined, I never considered working in tech – I thought it was just for computer science graduates, and I didn't see it as an option. I'm happy things turned out the way they did, though – I feel fortunate that I managed to find a career that I genuinely enjoy and where I feel like my contribution makes a difference.
Do you have any advice for other women looking to join the Tech industry?
Tech is a great industry to be in – if you think it could be a good fit for you, definitely give it a shot! The industry has a vast variety of roles, so I recommend exploring the different routes you can take. Once you find a suitable role, try to talk to a few people currently in that role to get more information about what it is like. Also, ask them for recommendations on getting into the role – courses or certifications to take or other people to get in touch with. People are generally very friendly, so whether you're messaging someone on LinkedIn or talking to them at a meetup, there's nothing to worry about.
Any recommendations for helpful resources?
I recommend joining your local meetup group for women in tech. These sessions are an excellent opportunity to meet other people (not just women!) who either already work in tech or are hoping to in the future. You will also learn lots of new stuff and make valuable connections. One London-based group which I like is Triangirls (https://triangirls.com/).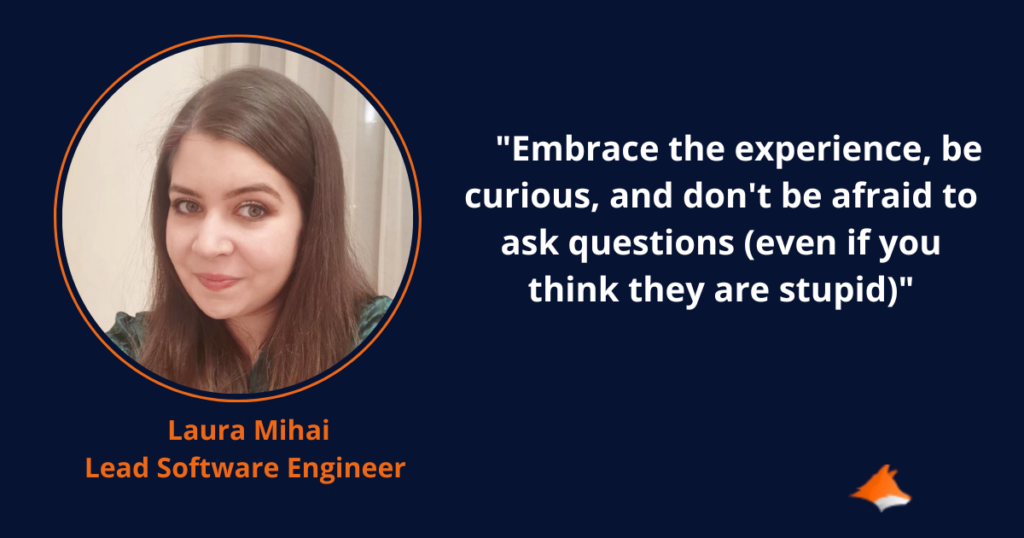 Laura Mihai, Full Stack Software Engineer
What's your role at AppFox?
I'm a full stack software engineer here at AppFox. I originally joined as a Graduate Software Engineer and always wanted to work for a small-sized company after graduate as I believed it would give me the flexibility to learn new things, such as making wireframes in Figma, to database modeling, and supporting customers directly.
What do you enjoy the most about your role at AppFox?
I enjoy coming up with solutions for customer requests/issues, using a great stack, the latest technologies, and most of all our amazing team. 😀
How long have you worked in the Industry?
I have worked at AppFox for two years now. It's strange looking back as I didn't intend to work in the industry as I did two years of film studies and then switched to computer science but I'm glad to have made the change!
Do you have any advice for other women looking to join the Tech industry?
My advice for new joiners, in general, is to embrace the experience, be curious, and don't be afraid to ask questions (even if you think they are silly questions).
Any recommendations for helpful resources?
Youtube is a great (and free!) place to start for anyone looking to start their career in web development.