It's fair to say Atlassian's Team 21 event was awesome!
Despite not being able to attend in person, you could feel the energy and excitement in every presentation. The sessions were packed with best practice sharing, thought leadership, and exciting news about upcoming product launches.
For those of you who are newer to the Atlassian world, Team 21 was the evolution of Atlassian's annual flagship conference – the Atlassian Summit. This event brings together teams from around the world to share the latest and greatest in the ecosystem and there was certainly no shortage of great content at this year's Team 21!
It's going to be difficult to condense these two days into a short summary but let's give it a go!
Continued investment in the Cloud
When Atlassian announced changes to their server offering back in October 2020, the interest in cloud offerings continued to grow at a pace.
It was great to see Atlassian is continuing to invest time and resources into improving their cloud solutions so that they appeal to organisations of all sizes, across a wide range of industries.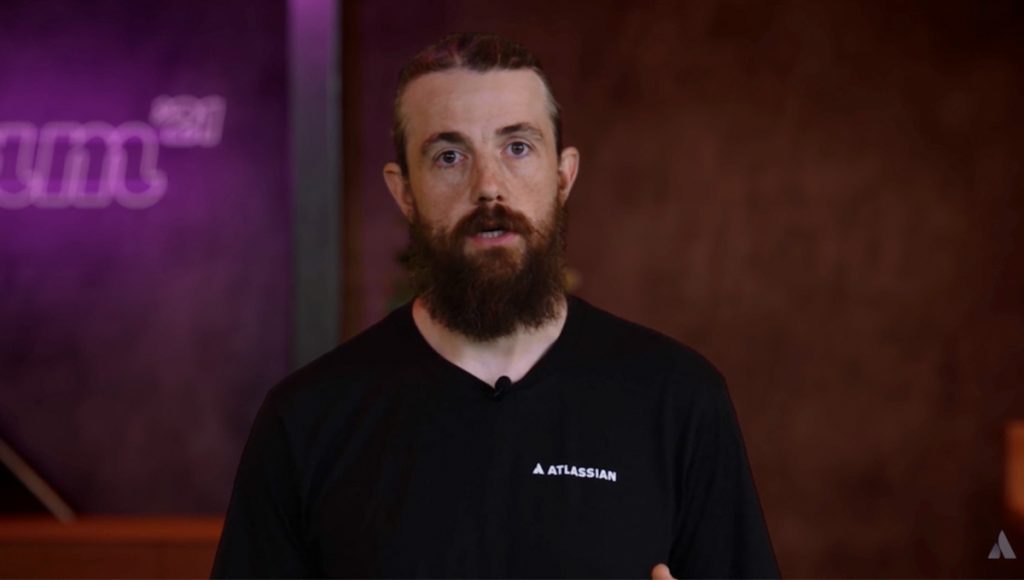 Mike Cannon-Brookes opened Team 21 with an overview of the improvements that have been made to the cloud. He outlined Atlassian's vision to make the cloud faster, more secure, and better performing for all companies. Some of his main announcements were:
Improved performance – increased by up to 60% for Confluence and the Jira family
Cloud Enterprise edition launched – for Confluence and Jira Software
Increased User Tier – the 20,000 user tier Early Access Program is now available
Data Residency – now available across all paid plans (standard, premium, enterprise) in Jira Software, Jira Service Management, and Confluence
Compliance Standards – Atlassian's cloud will have achieved several compliance standards by 2022
Machine Learning – currently integrated into cloud products and this will continue to improve over time
Throughout Team 21 you could see Atlassian's commitment and focus on supporting customers as they transition to the cloud. It feels like this is only the beginning and the future developments in this space are going to be exciting.
Are you thinking of moving to the Atlassian Cloud?
If the answer's yes, you should definitely take a look at the presentation "What I wish I'd known – Moving Splunk's 10,000 users to Cloud" from Greg Warner, Splunk.
As a company that has recently invested in the cloud, Greg's presentation contains some great insights and learnings that many organisations and business leaders can relate to.
Greg explains how cloud is often viewed as new, different, and unfamiliar – which in turn may make individuals or organisations feel uneasy. These internal biases can be an unnecessary blocker and it's important to approach the cloud with an open mind and explore whether it's a viable option for your organisation.
During the talk, Greg shared his "I wish I'd known" before starting on Splunk's cloud journey:
Third-Party Apps – plan early because not all apps have a migration pathway
Proposal – compare cloud with your existing setup. Without evaluating you will not know if you are missing out on an opportunity
Stakeholders – get your key stakeholders involved early (e.g. Legal, Security, etc)
Plan & Preparation – planning is key so don't make the process unnecessarily difficult
Terminology – learn the new terminologies because one day you'll need to be the expert for your teams
Try It – Don't be afraid to give it a go. There are a load of solution partners available who can support you on your journey
And if that hasn't whet your appetite, Greg summarised his experience with this powerful quote:
Are you doing things how you've always done them? And are you open to changing? Greg Warner, Splunk
At some point in our careers, most of us would have seen a team or organisation that are set in their ways. Teams should always remain open-minded to change otherwise there's a risk you could be left behind and miss the new opportunities.
When it comes to the cloud, you should be open to considering it as a solution and do your due diligence, even if it doesn't turn out to be a viable option. At least then you can be confident you have explored it and there's an alternative that's better suited.
Data Center still has an important role
Despite being heavily focused on the Cloud, Team 21 was also heavily focused on Atlassian's on-premise offerings – namely Data Center.
There are many companies and industries that operate in highly regulated environments or have specific requirements that require on-premise solutions. For those organisations, Data Center remains a great option!
It was clear from a number of the keynotes and presentations that Atlassian is continuing to invest in enhancing their Data Center offerings and they announced a number of significant improvements to performance, scaling, security, and compliance.
The presentation from Bala Venkatrao and Maggie Roney showed just how passionate Atlassian is about meeting the needs of their customers, irrespective of being on-premise or in the Cloud. They gave an overview of the security improvements that have been made and also revealed that Kubernetes support is coming to Data Center.
From our perspective as an Atlassian Marketplace Vendor, it was a fascinating presentation. We continue to see the important role of Data Center for many customers and are glad Atlassian is continuing to invest in this area to ensure the evolving needs of customers are met.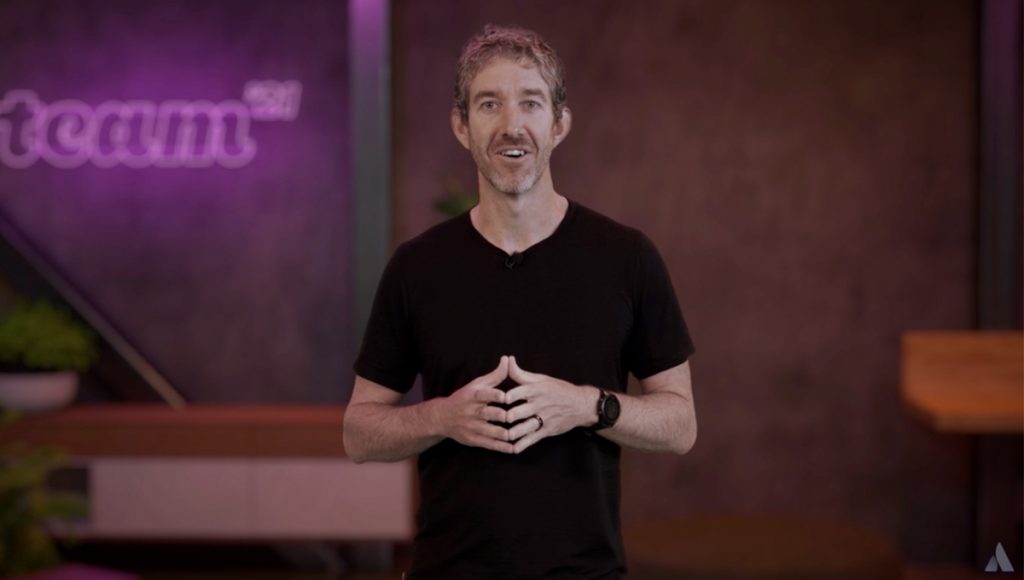 Introducing Point A – Atlassian's Innovation Program
Mike and Scott Farquhar (co-CEO, Atlassian) both revealed the exciting Point A innovation program.
Now, you would normally expect one or two new product announcements at an event like Team 21, but we were treated to FIVE products, each with their own exciting stories and use cases. The initial Point A products are:
Team Central – quoted as "one of the most exciting products in Atlassian's history"… we're already excited! Team Central gives the company an organised home for all teams, goals, and status updates
Jira Work Management – the re-imagined Jira Core, built specifically for business teams. We'll cover this in more detail below
Compass – helps engineering teams manage complex distributed architectures
Halp – conversational ticketing for Slack and Teams that brings a human element to support and helps prevent the silos and mismanagement of information that can help in distributed teams
Jira Product Discovery – built specifically for agile product managers and available natively on Jira
You could feel the excitement as Mike and Scott revealed these products to the world.
As regular users of the Atlassian stack, it's always great to know there are more amazing products around the corner that can make a difference to our customers and their teams. We're looking forward to seeing how these products are received by the wider community and how they can take team working to the next level.
It's worth noting that Compass and Team Central are both in the Alpha stage of their life cycle so we can expect to hear more news soon!
Jira Work Management
For over a decade, Jira has been a revelation for project teams around the world, bringing distributed teams and work together in harmony.
However, as we know, Jira Software can sometimes be too heavy-handed for business teams (e.g. Marketing, HR, Legal) and this was a challenge Atlassian tried to address with their previous product, Jira Core.
Jira Work Management (JWM) is the significant upgrade to Jira Core, bringing more powerful functionality that's relevant for business teams. It comes with a built-in list view that enables users to edit in-line and making fast adjustments on the fly.
JWM also has a timeline and calendar view available out of the box, giving teams access to a wealth of valuable information straight from their Jira projects.
As regular users of Jira to manage our software releases and marketing campaigns, we are really excited by Jira Work Management. This could be a real game-changer for business teams who want a better way to manage their work – with some of the best features Jira has to offer!
If you get an opportunity, I'd highly recommend watching the talk "What happened when we turned our customers into design partners" by Chase Wilson, which is a fantastic example of how Jira Work Management has been built for the customer, using real-time customer insights throughout the design process.
Just to give you a taste of what Chase discussed, in just 5 months the Atlassian team were able to design, gather feedback, and improve the product until they landed on what we now know as Jira Work Management. The process they went through was fascinating, and the product itself looks incredible!
The future of teamwork
The COVID-19 pandemic has most likely changed the working world forever.
Andrew Charlton's presentation "A decade of tech change in only one year – what comes next?" was really interesting and when you stop to reflect on how the working world has changed in the past year, it's incredible.
This presentation was also backed up by a fascinating discussion between Mike Cannon-Brookes' and the CEOs of Slack and Zoom. The 3 business leaders discussed the future of work, shared their own perspectives and how their companies have adapted to the new normal, and shared their predictions on whether companies will ever return to the pre-Covid normal.
Whilst it all remains uncertain, we believe there are some permanent changes to the way we all work going forward. The pandemic has shown many organisations they can still operate efficiently with a remote workforce.
2020 forced companies to make a change, disrupting some potential biases and underlying fears about employee productivity when working remotely. Whilst we don't have a crystal ball, it's hard to imagine organisations will revert to the way they used to operate.
There are huge opportunities for an improved work-life balance and the flexibility that comes from a hybrid approach may be more appealing to employers and employees going forward.
Either way, we will have to see. Mike's discussion with Eric Yuan and Stewart Butterfield was thought-provoking to say the least so definitely add it to your list!
That's all for now
As you can see, Team 21 was packed with incredible content so I would highly recommend you watch it back if you can. You should also check out the "Top Quotes from Atlassian Team 2021" article written by a champion of the Atlassian ecosystem, Rachel Wright, for a play-by-play of Team 21 using the key quotes from the conference.
It's certainly an exciting time for Atlassian and we can't wait to see how their products continue to evolve to meet the needs of teams around the world.
We'll see you at next year's event in Vegas! 😎