Manage the Configuration and Performance of Jira with Precision and Efficiency
Improve Jira performance and manage large systems with ease using built-in analytics, bulk change functionality and a range of clean up tools.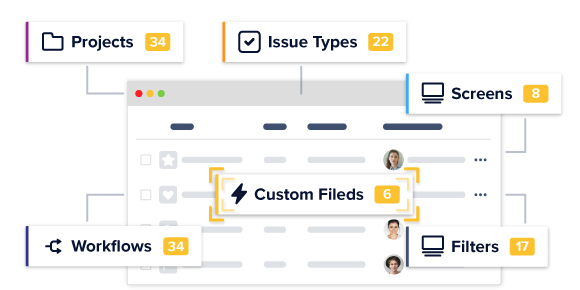 Identify areas for improvement
Jira Admins can use Optimizer's powerful interface to get an overview of the system, identify unused or rarely used configuration objects and plan performance tuning initiatives based on insights. 
The interface provides an intuitive table view with filtering that enables the Admin to find what they are looking for quickly and easily without wasting time clicking through multiple screens. 
In our on-premise version, Jira Admins can save time by using built-in health checks to identify key areas for improvement.
Manage jira systems with ease
Identifying the problems in Jira is the first step, but Admins need a way to make changes and perform actions that will improve system performance. 
By using Optimizer's bulk change feature, Admins can perform maintainence and tuning initiatives efficiently and make changes to configuration objects such as editing, merging and deletion*. 
For many customers, this feature is used to perform clean up operations and reduce the number of unused or rarely used objects which will have a positive impact on Jira system performance. 
*the features will differ between On-Premise and Cloud versions.
Improve Jira speed and performance
Give your Jira Admins the tools they need to be effective and efficient in their role. By using Optimizer, you are enabling all of your Jira users to benefit from a high performing Jira system that is maintained effectively and efficiently. 
As an example, one of our enterprise customers reported an improvement in Epic Load Speed from 14 seconds to 1 second after using Optimizer for Jira. If you multiply this time saving by the number of users it can be a real game changer!
Why use Optimizer for Jira?
Keep Jira systems running smoothly and remove unused objects which could impact speed and performance.
Enhance Admin Effectiveness
Give your Jira Admins the tools they need to do their job effectively. Optimizer enables Admins to identify problems and make changes quickly and efficiently. 
Proactive System Maintenance
Don't wait for problems to arise.  Use Optimizer to be proactive and maintain a healthy, high performing Jira system that everyone is happy to use.
Save Money, Increase Security
Reduce license costs and improve system security by using Optimizer to identify and remove users who no longer require access to Jira systems. 
What do our
customers
say?
This is one of the most useful Add-ons for a Jira Admin. It makes my task so easy while assessing my customers instances. I shared it with my team, they couldn't disagree that it is very handy.
very handy addon, comes with an very easy to use interface and shows usage statistics with every item like custom fields, status, resolutions etc. I have not tried the automated cleanup so far, but overview and analysis as a basis for manual cleanup is all I need. I also like the csv export for documentation purposes- thank you!
... a reliable tool with a user-friendly design! I would definitely recommend it!
This add-on is crucial to anyone supporting large jira instances, like my team. It has been instrumental in identifying inactive projects, low or no use fields and schemes. Having the ability to bulk remove schemes, screens etc is very helpful and allows for fast house keeping. Our team have implemented a monthly age-off practice and after projects are deleted we run the instance through cleaner to bulk remove the unused schemes. We have deleted thousands of artifacts thus removing the weeds from our very large Jira garden. 🙂
Jira System's come in all shapes and sizes
There are no identical Jira systems and our product is built with the flexibility you need. We have adjusted our Cloud and On-Premise versions to meet the different needs of Jira Admins working in these environments. You can learn more about the features for each product type below.
Many of our on-premise customers are managing large instances or trying to maintain a system that is rapidly scaling up. Optimizer for Jira provides Admins with the tools to proactively diagnose problems, identify areas for improvement and manage Jira systems at scale by using bulk editing, merging and deletion. Some of the core features include: 
Custom Field Optimization – Admins can re-contextualize and merge custom fields to improve Jira performance
Project Archiving – some projects may become obsolete or inactive. Use archiving to reduce the index size and improve the overall performance of the system without the need to delete the project
User Management – identify users who no longer require access to Jira and remove their access with ease. This will reduce the number of licenses required and improve system security
Health Checks – integrated system checks that identify problems or areas that need improvement. Optimizer for Jira contains 20+ ready to use health checks
By using these features and more, Admins are able to maintain a high performing Jira system in a time-efficient and insights driven way.
Our cloud version of Optimizer for Jira focuses on helping Admins be efficient in Jira Cloud. By using our powerful table interface and bulk actions, Jira Administrators can get a detailed overview of their system and making meaningful changes with minimal clicks. 
Our product guides are designed to support new and existing users of Optimizer for Jira.
Get in touch if you would like a personalised demonstration or to discuss your use case with us. 
Get started with Optimizer for Jira
Get a free 30-day trial of Optimizer for Jira through the Atlassian Marketplace.